Addie turned one year old on Monday, May 25. That morning, since it was a holiday anyways, her daddy couldn't wait for her to open her first present. She actually had a little fun herself with the wrapping paper!
Once it was put together, Addie had her own little stroller. Walking (with help, of course) is one of her absolute favorite things right now, so we're hoping this toy will give her a little independence and help her on her way to being a true toddler!
That evening, we had my entire family and Aunt Heather over for a Memorial Day barbeque, followed by a little birthday party for everyone's favorite little girl.
Birthday girl!
She got a lot of fun presents (benefit of being the first grandbaby/niece in the Sloan fam), but I think she loved the balloons the best.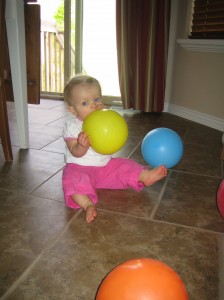 Then, of course, we presented her with her own birthday cake to dig into. She wasn't so sure at first…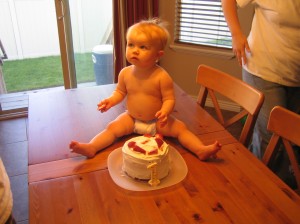 But then she started digging in, and played with the funky feeling all over her hands…
And after a lot of destruction (and a lot of laughter by those of us watching), she finally decided to taste some…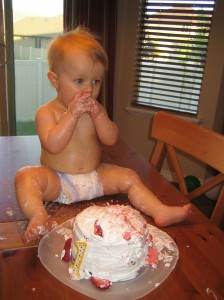 I love how she got her little feet into the action, too.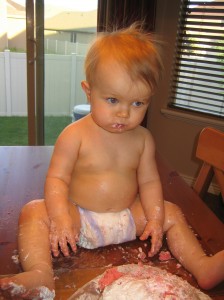 What a fun birthday for such a cutie! She also got gifts from her Knight grandparents and her cousins, and got phone calls with birthday serenades. Thanks to our families for making her first birthday such a good one!