…well, a sheet actually.
Addie cracks me up with her thing for cloth. Not only does she LOVE her blanket (I now have two so I don't have to deprive her of it every time it needs washing), but she loves the kitchen dishcloths, diaper wipes, washcloths (I always throw two in the tub to bathe her, one for her to play with, one for me to use…if she'll let me have it), her old burp cloths, and now sheets, apparently. She likes to put them on her head and crawl around. Not kidding. One Sunday we were in church, and she had everyone around us cracking up because she was giddily playing with an old white burp cloth, and putting it on her head and crawling around like a ghost.
So I shouldn't have been surprised when she was playing in her room so quietly, and I walked in to find this: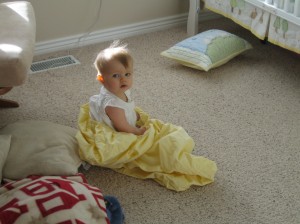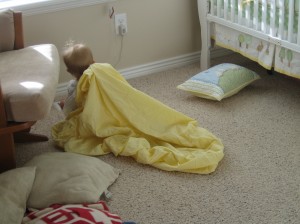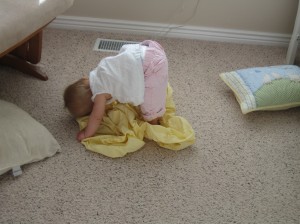 She seriously makes me laugh almost every day. Another funny thing she's taken to doing is to climb into her car seat when it's sitting on the living room floor. She likes to climb in and just chill out. Or read a book. Whatever.