Last week, the whole Knight family got together to attend a Miller family reunion up in Ogden canyon. We had a great time playing, eating, sleeping, and celebrating the Fourth of July. It was so fun to have all of Jesse's family together! The craziest part was having all three babies together.

Proud grandma!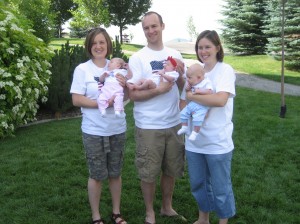 Jesse and his sisters.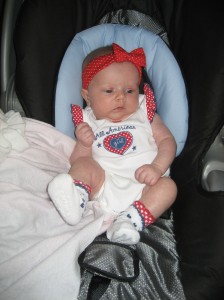 My Fourth of July baby.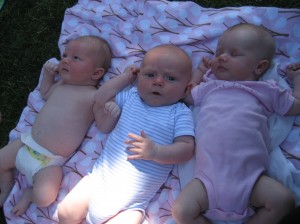 And on the way home from the reunion, we stopped at the Cherry Hill recreation park, so the kids (and the big kids…the dads) could go on some water slides. I hung out in the shade with Addie, Susan, Katie, and the two other babies, Ethan and Maggie. How cute are they?
Another really fun part of the weekend was the baby blessing on Sunday. We blessed all three babies, so it was a special experience for the whole family. We sure packed people into that meeting…and at our house after! I wish I had taken a picture of the pile of shoes in the entryway of my house that day, but I was a little busy running around. Thanks to everyone who supported us and the family!
And before the Knights, Noltes, and Forreys took off on Tuesday morning, we had to have a photo shoot with eight Knight grandkids. What an adorable and fun group! We hope to see you all again soon!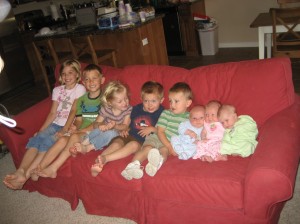 In order of age: Audrey, Justin, Maci, Tyler, Jacob, Ethan, Maggie, and Addie.
A bunch of cute Addie photos to come soon…