It's been awhile since I've done an Addie update, and she's had a lot going on in her young little life. So here goes!
Addie is officially (though, it seems like she always has been) a Daddy's Girl. I don't think there's anyone she loves spending time with more than her dad. She wants to do anything he does, including working in the garage or on any household project…as long as it involves tools. This little cutie couldn't care less for dolls, but certainly loves to throw balls, fight with swords, wrestle, and use tools like her dad.
Some funny Addie-isms:
I thought kids hated having shoes on. But this kid LOVES her shoes, and cries when you try to take them off. Particularly her Keene sandals. In fact "shoes" is one of the words she can say really well.

She does not like dresses. At all. She doesn't mind getting dressed, as long as it's not in a dress. I can't really figure out why. (Loves jewelry, however. Go figure.)

Addie still doesn't talk a lot (at least anything that makes sense), but she's getting really good at communicating with her cuteness. Oh, and I'm pretty sure she says "daddy" for both Jesse and me. I try not to take that personally. 
Addie turned 2 on May 25. I can hardly believe it! For her birthday, Jesse and I took her to the zoo for the afternoon. She loved it (of course)!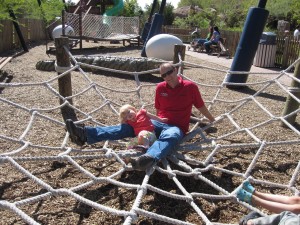 About a week later, we had a family dinner as a birthday party. The theme was Curious George. Yes, she loves that monkey. She got some fun presents, but I think her absolute favorite part of the party was all the balloons. I think I'll remember that for the next 2-year-old birthday party! (Who needs presents?)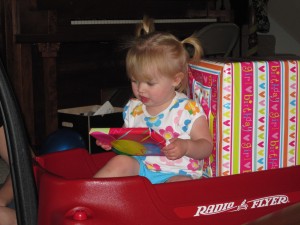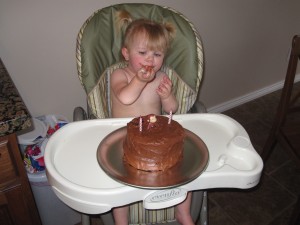 I feel like Addie's growing up too fast on me. We recently switched her from her crib to a "big girl" bed, and she seemed so small for it at first. We spent several weeks getting her new room ready, which included painting, getting new furniture, and putting flowers up all over her wall. She was so excited about the bed, and slept really well in it for the first weekend. Then…she discovered that she could get herself out at any time. So for a few weeks we had a nocturnal visitor at various times of the night or early morning. After awhile, though, I think she figured it out and hasn't left her room as often.
However, one morning, Jesse found this on the couch in the living room:
I was wondering if I'd ever find her sleeping on the floor somewhere, but this sure made me laugh!
For the past several weeks, Addie's been going to a "preschool" daycare twice a week. At first it was really traumatic on all of us, but after a couple of weeks, she not only tolerated it, but she started looking forward to it. It was almost a bittersweet moment the first time she just smiled and waved goodbye to me as I left her. She's becoming pretty social (finally!), and whenever I take her to her "preschool", at least two or three boys yell "Addie!" excitedly when we walk in the room. She is beyond adorable, and we love her so much!
She's going to make a great big sister! (Really, really soon!)