I know I promised a "great outdoors" post next, but I had to throw this in first.
We all have a happy place. Mine is Paris…and some days Hawaii. Well, Addie has a happy place. It's where she smiles the most. It's where she calms right down if she's upset. It's where she coos and makes happy noises.
It's her changing table. I'm not kidding.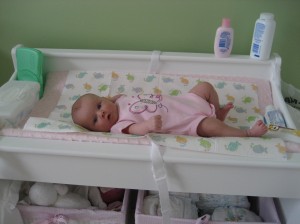 I never thought I'd catch that big of a grin on camera. It wasn't anything I did…it was just that she was in her happy place. Too bad I can't just leave her on there! Gotta love this little peanut.