Last week, Addie and I went with Jesse to Costa Mesa (CA) to hang out while he attended a training class. It was Addie's first trip to "the land of her forefathers," as Jesse put it. I've done my fair share of traveling in my life. I've been through airports from Sydney to LA to New York to London and Paris. You could drop me off anywhere, and travel doesn't intimidate me. But traveling with a baby…all new adventure. I was nervous about it, but then found that traveling with a newborn is like traveling with a golden ticket.
People in the security line who might otherwise get annoyed turned all mushy and would ask how old she was. Security personnel, who would normally treat you like a terrorist if you had forgotten that you had a half-used tube of toothpaste in your carry-on, didn't bat an eye at (or even ask about) the bottle of breast milk I had. And stepping through the security scanner with Addie in LA, the guy on the other side gave me a huge grin and said, "God bless you and your sweet little baby." Where the airline preaches to you about the stuff you can bring on a plane, to the point where you almost feel guilty for carrying stuff on, they happily take a stroller and car seat at the gate without any hassle whatsoever. One lady at the gate in Salt Lake even apologized that the flight was so full, or she would've found us an extra seat. And I found that, where a child screaming is annoying to others, a newborn cry is still precious and cute, and when Addie fussed on the way home, we got sympathetic looks and smiles. People, even the flight attendants, seemed to enjoy just looking at her. It was an interesting experience.  
The trip was fun. Addie and I were lazy and slept, read, watched movies, shopped, and laid by the pool. (Well, Addie napped in the shade, I laid by the pool.) With Jesse, we shopped, wandered the coast, and visited the beach. We even met up with the Knights and Noltes for a bonfire (really just a bbq) on the beach at Oceanside. I put Addie's feet in the Ocean. I like thinking that she'll grow up being very familiar with the beach and the ocean.
I didn't end up taking a lot of photos, but here are a few.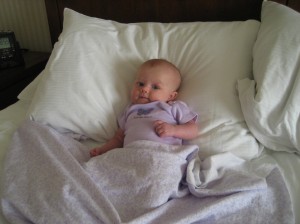 Addie kickin' it with me in the hotel.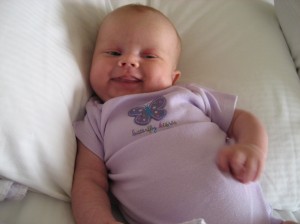 Yep, we had fun together.

 On the way down to Thousand-Steps Beach.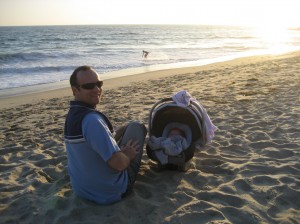 On Thousand-Steps Beach. I think Jesse is going to like sharing these places with his daugher.
 Playing on daddy's lap on the airplane.
And…
The day we left, I took this 8-week picture of Addie. (Thanks, Em, for the adorable dress!)
Can you feel it? Football season's coming. Addie apparently can feel it.