This has been a big year for Adelaide. While some days I do miss my little baby girl, I must admit, I'm loving this age. She's grown and changed so much, and is turning into a delightfully imaginative little girl! (You know, I used to worry about her speech–since she just didn't talk much when her peers were. But like everything else she does, she just decides when she wants to do it, and that's all there is to it. She surprises me every day with her power of communication these days. Also reminds me that I need to be careful about what I say around her!)
Back in April, Addie had her first trip to Disneyland! Jesse grew up a Disney fan (having grown up in Southern California), and I had been a few times as a kid and after Jesse and I got married, but having little kids has made us really wake up to the sheer magic of all things Disney. The trip was so fun, and we spent three days in the park (something I've never done before, and neither had Jesse), enjoying every minute. I wish I had recorded Addie's face when she saw the castle for the first time, because it was priceless!
Now that it is nine months later since the trip, Addie will still tell me about Disneyland and her experience there. (She wasn't talking that much then, so I wasn't totally sure how much she was soaking in, but based on what she tells me now–she pretty much soaked it all in!) She tells me about the riding in the cups, the map she carried around, her balloon, Mickey's house (will even describe the dishes in his sink), and the Woody ride. Can't wait to take her again!
On Addie's birthday in May, she turned the ripe old age of 3! For her birthday, I enlisted Uncle Shawn's help in taking her to the bouncy houses at the Classic "Fun" Center. I figured no one would be able to keep up with her (and tire her out) like Uncle Shawn.

Then we had a fun family party for her, complete with an amazing birthday cake from her Aunt Kali, and a quite hilarious (and impromptu) game of balloon throwing. We must all think we're kids at heart, still.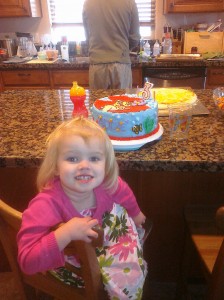 This year has also been the Year of the Princess at our house. We've been collecting princess toys, princess movies, and best of all: princess dresses. (Maybe I wished I had some as a kid, who knows…but I can't seem to help myself from buying them for her.) She's got a closet full, and it's launched her into a beautiful world of make-believe and imagination.
(I realize Tinker Bell isn't a princess, but she loves this outfit, and here she was "digging for Peter Pan's treasure" so
she could hide it from Captain Hook!)
Also this year, Addie has really started to enjoy playing with friends. She has some favorites in our neighborhood, but also loves her two "cousins" (technically my cousins' girls), and she gets to play with them regularly. And what's better than combining playing with friends with your favorite princess culture? (Seriously – does it GET better?)
Cutest little group of princesses EVER.
Heading into our summertime adventures this year, Addie got to take swimming lessons. She really loved them, and her teacher called her a little fish (he said usually he has to talk the girls her age into ducking their head under water…but Addie wouldn't stop ducking her head). She got to jump off the diving board (sort of) and then spent the rest of her summer wanting to swim!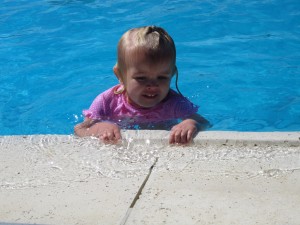 Okay, I've got lots more to go, but we'll call this one good. Next up, summertime adventures! (And yes, there will be an Addie Pt. 2.)