Addie finally got her first camping trip. I thought it would be tricky at best. It wasn't.
She loved watching the campfire, and when it was time to go to bed, I bundled her up (including the socks on the hands) and put her in bed (around 10:30). I thought she might fuss a little before falling asleep, but she didn't make a sound…she just went to sleep. And she barely made noise all night – and slept better than any of us!
In the morning, she was very chipper and happy. Steven and Mike got to see the happy morning baby that she can be.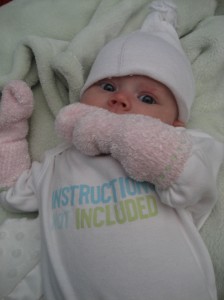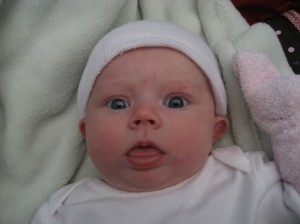 And then, while the four of us (Jesse, me, Mike, Steven) played a game in the tent because it was raining, she just hung out and fell asleep. She couldn't have been a better, happier camper!
The next outdoor adventure? Hiking! Jesse's getting her ready…