This is one of those "hasty" posts I mentioned. We had an awesome fall/holiday season, so I'm just gonna post a gazillion photos and let them tell their own story. (With some caption-help from me, I guess.)
Halloween
Probably my most favorite time of year! We made our annual trip to the pumpkin patch for the obligatory photo-op.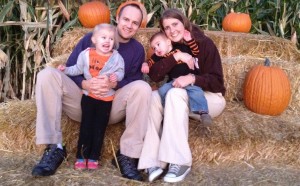 Okay, I think I have cute kids. Seriously.
Addie was Tinker Bell, and Westen was…
Darth Vader. Yeah, I was a teensy bit excited to dress a boy up like Vader. Awesome.
One of our favorite Halloween traditions is Mel's office party. Mel has to do a ton of work for it, but it's awesome!
Addie had a little costume parade at preschool. Love those girls!
Our pumpkin creations for the year: yeah, we're kind of Phineas and Ferb fans.
Thanksgiving
We went to California for Thanksgiving, and were able to spend it with most of Jesse's family. All the grandkids were together – that doesn't happen often.
This little boy loves to be outside. California weather suited him just fine.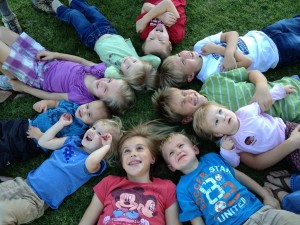 Love these kids! Wish we saw them more often!
Christmas
We holidayed ourselves out this year. Pictures with Santa, family parties, Candlelight Christmas (This Is the Place Heritage Park), Zoo Lights, Temple Square, etc.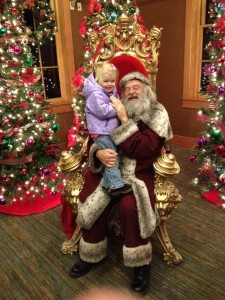 Try walking around crowded Temple Square with this group of Beared-Beanie-Men. Yes, we sorta attracted a lot of attention.
We hosted Christmas Eve at our house. Addie asked Santa for a very special doll–and I couldn't talk her out of it. It was one of those mechanical dolls that talks, hugs, eats, etc. She insisted that Santa was going to bring it for her. So he did. (And yes, that doll goes un-played with, as I expected, but the delight at seeing the doll Christmas morning was worth it.)
We went to church first thing, then spent the rest of the morning opening presents. It was a lovely holiday at home!