Last year, Jesse and I started talking about when we'd like to have a third kid. When people asked if we were having any more, or how many we wanted, our answer was always "We get what we get." For anyone who has had to deal with fertility issues, that question is always a little double-edged, since having kids has to be completely deliberate, but is also not guaranteed.
Anyhow, we decided to visit our fertility specialist in December or January to start our particular process, but we got a little surprise in October. I was so shocked, I didn't even come up with a cute way to tell Jesse. I simply texted him a photo of the test stick. And I cried a little ('cause I wasn't ready). And then I didn't tell anyone but Jesse for a long time. Not because we weren't happy or excited (I did get there, eventually), but because there's something about pregnancy that I find completely personal. And I don't love attention over my personal, physical condition. Needless to say, unless you interacted with me personally during those 9 months, you wouldn't have known I was expecting baby #3.
Fast forward to June. Hugely pregnant and miserable, the morning of June 8, my water broke. (For the third time. Apparently that's beyond rare.) Because we're kind of laid back about the whole getting to the hospital thing, I didn't call Jesse until noon to tell him we'd be going to the hospital that day. He didn't come home until 4. My mom was headed over just to hang out anyways, and I didn't even tell her until she got there that I'd need her to stay with the kids while I went to have a baby. Jesse and I didn't get to the hospital until 5.
We were checked in and had me hooked up to the monitors and everything by 5:45. At 6, they asked me if I wanted an epidural, because the anesthesiologist had to go into a surgery. I thought I'd be ok waiting the 30 – 40 minutes until he got back. But that 40 minutes was pretty insane. Everything's pretty much a blur from then on. They called the doctor to hurry in, the anesthesiologist did his best to get me hooked up in time, but in the end, Lucas James Knight decided he was on his way, and he wasn't waiting for anything. He was born at 7:28. And that epidural kicked in, oh, a few minutes after he was born. Not only did I technically have him naturally, but I still had to recover from an epidural, too. Lovely.
But this beautiful boy was worth it. 8 lbs, 6oz, and 20 inches. Lots of hair. Looking nothing like his siblings. So far he's been a good, mellow baby. Yes, the newborn thing is still a lot of work, but I think we're doing okay with this 3-kid thing so far.
Only a couple of days after this picture was taken, he pretty much looked nothing like this! Crazy how fast babies change. The outfit is something I bought in Paris when I was pregnant with Addie, and we save it for our kids' "going home" outfit every time. It's a nice tradition.
We only hung out at the hospital for about 24 hours after he was born. I know I should've stayed an extra day to enjoy the experience, and a lot of people have given me crap about it since, but I don't really enjoy the hospital. The bed hurts my behind, nurses are constantly checking on you and charting when your baby eats, etc, and (even though I LOVED one of my nurses) it all just seemed so unnecessary. And being the low-maintenance and trouble-free patient I am (that's why my doctor loves me), I told them I was leaving Saturday night, and my doctor was not surprised.
Now at home, we're adjusting. Some days it feels like we've always had him, and it's all easy. Some days I'm in survival mode and I feel like I can't handle it. But I tried not to wallow for very long and just get back into life. Partially to prove I could handle it, and partially for my own survival.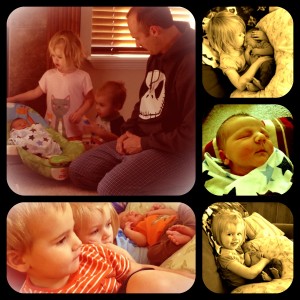 Addie loves her baby brother. Westen still wonders what the deal is, and really misses getting my attention when he wants it, but even he is showing some interest in this tiny being that has joined our home. Overall, we're happy, tired, overwhelmed, and completely and utterly grateful for the blessing of our three children.