I have now officially returned to work. I can't believe I've already wiled away 12 weeks of maternity leave.

How did I spend those 12 weeks? Well, not productively in a normal sense. My dishes went undone, laundry unfolded, and floors unvacuumed for days at a time. I didn't create beautiful birth announcements, like I wanted, and I didn't scrapbook Addie's first weeks of life. I didn't pack Jesse's lunch every evening, like I thought I would, and I didn't get into cooking. I didn't lose my pregnancy pounds, and I didn't spend any time at the gym. I didn't work on the story I've been writing, though I had many hours of downtime to think about my characters and what my invented universe was going to deal them. I didn't finish reading my book about Henry the VIII's six wives, and I didn't (as yet) give in to reading the Twilight series.

So what did I do? Well, Addie and I…
Spent time with family and friends
Went on walks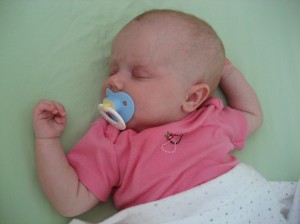 Slept
Played together
Traveled
And let's be honest…watched A LOT of TV.
I spent hours holding her, looking at her beautiful face, soothing her, and feeding her. She became an extension of myself in a different way than pregnancy: then there was no option to be apart; now I can put her down or be away from her, but it aches in a funny way when I do. 

I won't be pretentious and claim to know anything about motherhood. I still find it hard to apply the term "mother" to myself. But I know some little things. Like I know (now) not go anywhere without an extra diaper or outfit. I know that my baby's cry has an affect on me that no one else feels. I know that when I'm in a swarm of mosquitoes, I'd rather they all bite me than touch my baby. I know I don't feel well when my baby doesn't. I know my husband means more to me now than he did before. And I know that the beginning of a new life is a sacred thing, and really makes you contemplate the eternal nature of the human spirit.

The past 12 weeks have been full of firsts for both Addie and me. I didn't do half of what I thought I would do on a break from work, but what I hope I did was really absorb and experience those moments with her and with Jesse.

Basically, I feel like my life crashed into pieces once she came, and I've spent the last 12 weeks climbing my way back up to a new kind of normalcy. It feels strange, but still kind of nice, to be back at work for now. I'm grateful to my mom for making it easy to do. Now Li'l Addie gets to bond with a grandma who couldn't possibly be happier to be one!