Oh, my Westen. Some days I feel bad that I didn't chronicle his life month-by-month (or at least more regularly) as he hit his big milestones last year, because he seems to be in a rush to grow up and be like his sister. This little boy can light up my day with his cheesy grin and his snuggles. He is definitely a little mama's boy, but still enjoys his independence. I used to watch moms feeding their babies by spoon, and it seems that I've forgotten what that was like, since this kid hardly ever let me do it!
Westen's babyhood was bit rough on me, and once we got some things straightened out (like his reflux – remember that sad story?), he moved quickly on to stressing me out with his adventurous spirit. From the moment he could crawl, he started to climb stairs. From the moment he could stand, he was trying to walk. And before he could even walk competently without help (at 10 months!), he started to CLIMB. (Yes this is a 2011 year-in-review thing, but as a recent anecdote, I took him to a park in California in February, when he was barely 18 months old, and he found a climbing wall. And he climbed it. And I watched him learn to navigate the foot- and hand-holds like he knew what he was doing. Yep, that's my boy.)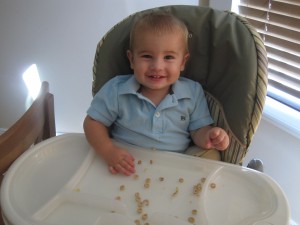 Westen doesn't have a long attention span, but I can usually find a movie that catches his attention long enough for me to take a breather. The first one, as I mentioned before, was Tangled. He LOVED that movie, and I still don't know why. The boy who wouldn't sit still for anything would sit and watch and listen, captivated, for the whole length of the movie. Yes, I may or may not have abused that. But let me tell you, it was sure a lifesaver on nights that he would wake up and not be able to go back to sleep. And that happened, oh, about every other night. (I could turn it on and doze on the couch while he watched – I know, call the bad parent police, but this is how we survived for awhile.) Westen, to this day, is not the greatest night sleeper, but maybe I'll tell that story at another time.
I realized when I looked back over my 2011 pictures of Westen, he's often only wearing a diaper. Not because he didn't like clothes, but because I often got lazy about getting him dressed. And he liked being this way. Win-win.
I have a whole Addie-and-Westen post in the works, but I wouldn't be telling Westen's story very well if I didn't mention how much he loves his sister. Addie always seemed to take her time reaching her milestones (walking, etc.), but Westen wants nothing more than to do what Addie does. He spent much of the second half of last year watching his sister, following her, and just wanting to do what she does. Their favorite time together is bathtime – Addie makes it her job to entertain him, and they just giggle and play for over an hour.
And I love this picture. After getting Westen out of the tub and dressed, he sometimes would climb back in before I could stop him. This picture says more than I can.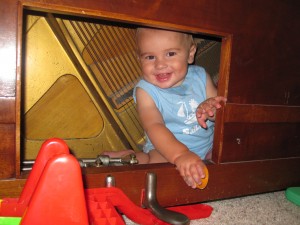 As soon as I thought my house was Westen-proof, he'd find something else to climb into. Like inside the piano.
As Westen got more and more adventurous, I did notice one calm activity that he liked to do, and that was look at books. I'd often find him in his or Addie's room, quietly thumbing through whatever books he could get hold of.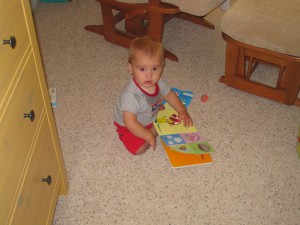 Westen's favorite place to hang was in the drawer of the entertainment center. He'd get in there just to play, or to watch TV.
And of course, what he became famous for was his crazy, monkey ability to climb.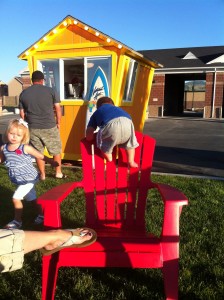 Westen is that kid that makes other people nervous. He climbs precarious things, and other parents look at me incredulously that I don't swoop in immediately to stop him. See, if I always swooped in to stop him, he'd just get more determined. And it's ALL I WOULD DO. We sort of developed a radar on what was a little too dangerous, and what wasn't that big of a deal. He's also that kid who takes off running in a crowded place, and people watch him, then immediately check around him to make sure someone's following him. It's a good thing I'm not more of a worrier than I am (or a more intense personality, I suppose?), because with Westen you have to pick your battles, and decide what's going to require intervention. It's the only way we survive.
(The crazy thing about this picture is that he wasn't even a year old yet. But if his sister was doing it? He wanted in. No matter what.)
I'm not sure what life would be like without Westen. When he was a brand new baby, I remember looking into his face and thinking, "I know you." Like Westen and I have been buddies for a long, long time. And as Addie has started having more of a schedule away from home, he has become my happy little sidekick.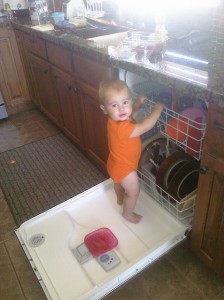 Sleep issues and crazy adventurousness aside, how could you not love this little face? We sure love him. To pieces.
First haircut!
If Westen's first full year of life was this adventurous, I'm both excited and scared for the years to come!